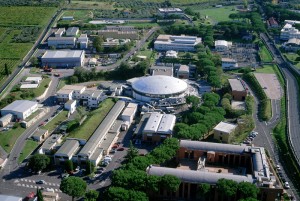 The National Laboratory of Frascati organizes guided tours during working time. It is essential to book in advance. Visits are reserved to:
– Schools
High School students in their last year (17-18 years old);
Middle School students in their last year (13-14 years old)
Primary School students in their last year (10-11 years old); (→ Find out more on [edu]kids )
– University
– General public (Institutions, Companies, Private Citizens, etc.)
Modalities of participation

To book a visit you need to fill the online form.
We will contact you to inform you of the success of your reservation, according to our Visits Calendar and the availability of our research groups.
High Schools (max 25 participants per school) → APPLY HERE 
deadline October 22, 2017 by selecting the entry"Visit & Career Day" –

requests sent after the expiration date will be placed in a waiting list.


For this type of request, just one day of visits and orientation "Visit & Career Day" will be held on April 16, 2018.


Elementary and Middle School → APPLY during the school year
Groups (Universities, Institutions, Foreign Schools – max 25 participants, ask for a guided tour in English) → CONTACT US TO: comedu@lnf.infn.it
PROGRAM
PROGRAM
The tour is free and lasts 3 hours. After that, visitors will be asked to leave the LNF.
Morning: 10:00
The program includes:
Introductive seminar (about 45 minutes)
Guided tour of the experimental sites led by LNF Researchers and Technologists.
The itinerary will be set accordingly to the availability of the LNF experimental activities in the day of your visit.

ACCESSIBLE SITES
ACCESSIBLE SITES
ACCELERATORS & DETECTORS TOUR

Click on the experiment for more info.

DAΦNE
Double Anular Φ-factory for Nice Experiments

SPARC_LAB
Sources for Plasma Accelerators and Radiation Compton with Lasers And Beams

Nautilus
Gravitational waves detector
USEFUL INFO
USEFUL INFO
There are no visits on Friday afternoon, Saturday, Sunday, holidays and in the month of August.
Private buses and cars cannot park in the LNF areas. There is a parking lot in via della Perazzeta near FS station Tor Vergata.
It's not possible to access the canteen or have meals in the LNF areas.
It is mandatory to examine the Behavior Based Safety Guide.
In order to allow us to provide the best possible organization of our events, you're kindly invited to observe strict punctuality: access to the LNF not earlier than 9:30 am; reception at 9:45 at Atrio Auditorium B. Touschek, Building 36.
HOW TO REACH US / LNF MAP
HOW TO REACH US / LNF MAP
CONTACTS
CONTACTS
Sara Arnone – Contact person for guided tours (High School, Universities, Institutions, Foreign Schools)

Tel.: +39 06 94032871
e-mail: comedu@lnf.infn.it 
Elisa Santinelli – Contact person for [edu]kids program and guided tours (Elementary and Middle School)

Tel.: +39 06 94032868
e-mail: comedu@lnf.infn.it