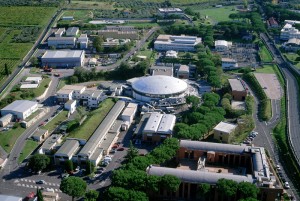 The National Laboratory of Frascati organizes guided tours during working time. It is essential to book in advance. Visits are reserved to:
– Schools
High School students in their last year (17-18 years old);
Middle School students in their last year (13-14 years old)
Primary School students in their last year (10-11 years old); (→ Find out more on [edu]kids )
– University
– General public (Institutions, Companies, Private Citizens, etc.)
Participation Modalities

In order to book a visit you will need to fill in the online form.
We will contact you to inform you of the success of your reservation, according to our Visits Calendar and the availability of our research groups.
Deadline: October 22, 2017
Booking forms sent after the deadline will be added to our waiting list.
Visit & Career Day* (max 25 participants per school) → APPLY 
* "Visit & Career Day" (April 2018): one day dedicated to visits and meetings with researchers
Groups (Universities, Institutions, Foreign Schools – max 25 participants, ask for a guided tour in English) → APPLY
Single visitors, small groups and cultural associations** (max 25 participants) → APPLY
**We only accept bookings of this kind for general events such as our open day "OpenLabs". Your email address will be added to our mailing list so that we can provide all the details of the event.
PROGRAM
PROGRAM
The tour is free and lasts 3 hours. After that, visitors will be asked to leave the LNF.
Morning: 10:00
The program includes:
Introductive seminar (about 45 minutes)
Guided tour of the experimental sites led by LNF Researchers and Technologists.
The itinerary will be set accordingly to the availability of the LNF experimental activities in the day of your visit.

ACCESSIBLE SITES
ACCESSIBLE SITES
ACCELERATORS & DETECTORS TOUR

Click on the experiment for more info.

DAΦNE
Double Anular Φ-factory for Nice Experiments

SPARC_LAB
Sources for Plasma Accelerators and Radiation Compton with Lasers And Beams

Nautilus
Gravitational waves detector
USEFUL INFO
USEFUL INFO
There are no visits on Friday afternoon, Saturday, Sunday, holidays and in the month of August.
It's not possible to reach LNF by bus.
It's not possible to access the canteen or have meals in the LNF areas.
It is mandatory to examine the Behavior Based Safety Guide.
In order to allow us to provide the best possible organization of our events, you're kindly invited to observe strict punctuality: access to the LNF not earlier than 9:30 am; reception at 9:45 at Atrio Auditorium B. Touschek, Ed. 36.
HOW TO REACH US / LNF MAP
HOW TO REACH US / LNF MAP
CONTACTS
CONTACTS
Sara Arnone – Guided tours (High School, Universities, Institutions, Foreign Schools)

Tel.: +39 06 94032871
Fax : +39 06 94032243
e-mail: comedu@lnf.infn.it 
Elisa Santinelli – [edu]kids program and guided tours (Elementary and Middle School)

Tel.: +39 06 94032868
e-mail: comedu@lnf.infn.it