Frascati,  April 12th – 16th , 2021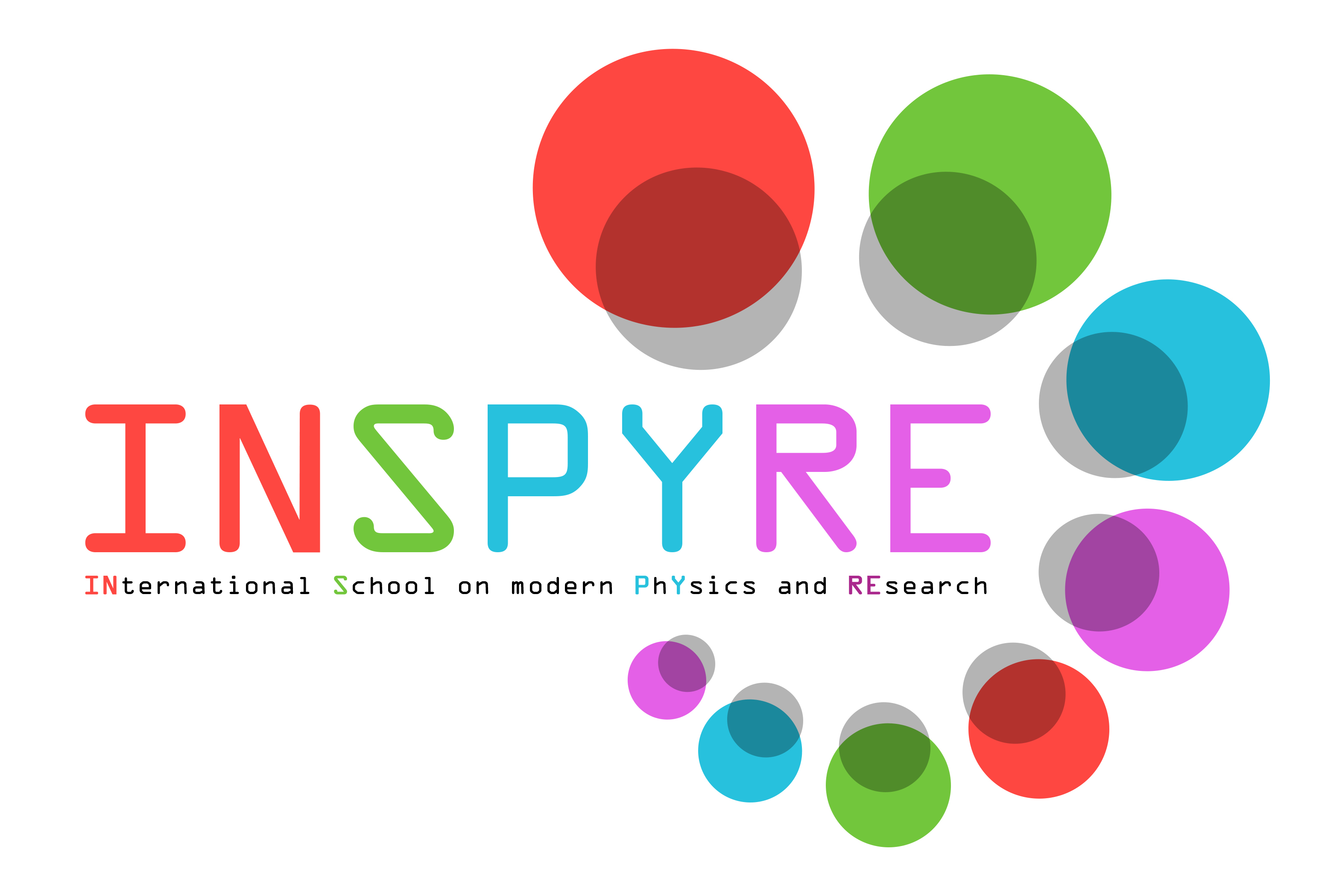 The magic realm of Particle Accelerators

This year the Scholl will be organized online, on a virtual platform, from the 12th to the 16 th of April and will contain a series of lectures.
The lectures are scheduled in the afternooms from 3:00 pm  to 6:00 pm (Rome CET).
Presently we are finalizing our program which you will find in this page.
INSPYRE 2021 is organized with the participation and support of:
National project of INFN Third Mission Commitee
PROGRAM
Monday 12 April – Chairwoman Catalina Curceanu

02:50 pm – 03:00 pm
INSPYRE 2021: Welcome and introduction (INSPYRE Director: C. Curceanu)
03:00 pm – 04:20 pm
From Cathode Ray Tubes to the LHC: an Accelerator Driven Journey from Electron to Higgs Boson (S. Bertolucci – Univ. di Bologna)
04:40 pm – 06:00 pm
Introduction to particle accelerators: from sub-nuclear microscopes to instruments for medicine (D. Alesini – INFN-LNF)
Tuesday 13 April – Chairwoman Paola Gianotti

03:00 pm – 04:20 pm
Physics and Cultural Heritage. CHNet – The INFN network devoted to cultural heritage (M. Romani, L. Pronti – INFN-LNF)
04:40 pm – 06:00 pm
The case of the missing antimatter (Michael Doser – CERN)
Wednesday 14 April

03:00 pm – 05:00 pm
Virtual Tour
Thursday 15 April – Chairwoman Silvia Pisano

03:00 pm – 04:20 pm
The Quantum Universe: from Science to Technology and back (Catalina Curceanu – INFN-LNF, Hendrik Ulbricht – University of Southampton

)

04:40 pm – 06:00 pm

Space accelerators! (M. Casolino – INFN-Roma 2)

Friday 16 April – Chairwoman Susanna Bertelli

02:45 pm – 04:30 pm

ALICE : A Journey of discovery into the core of matter

(D. Hatzifotiadou – INFN-Bologna)
04:40 pm – 06:00 pm
Accelerating the future (M. Ferrario – INFN-LNF)
ORGANIZING COMMITEE
Directors
Catalina Curceanu, Susanna Bertelli
Organizing commitee
Sara Arnone,
Debora Bifaretti,
Elena Patrignanelli,
Sara Reda,
Elisa Santinelli