Frascati,  April 4th – 8th , 2022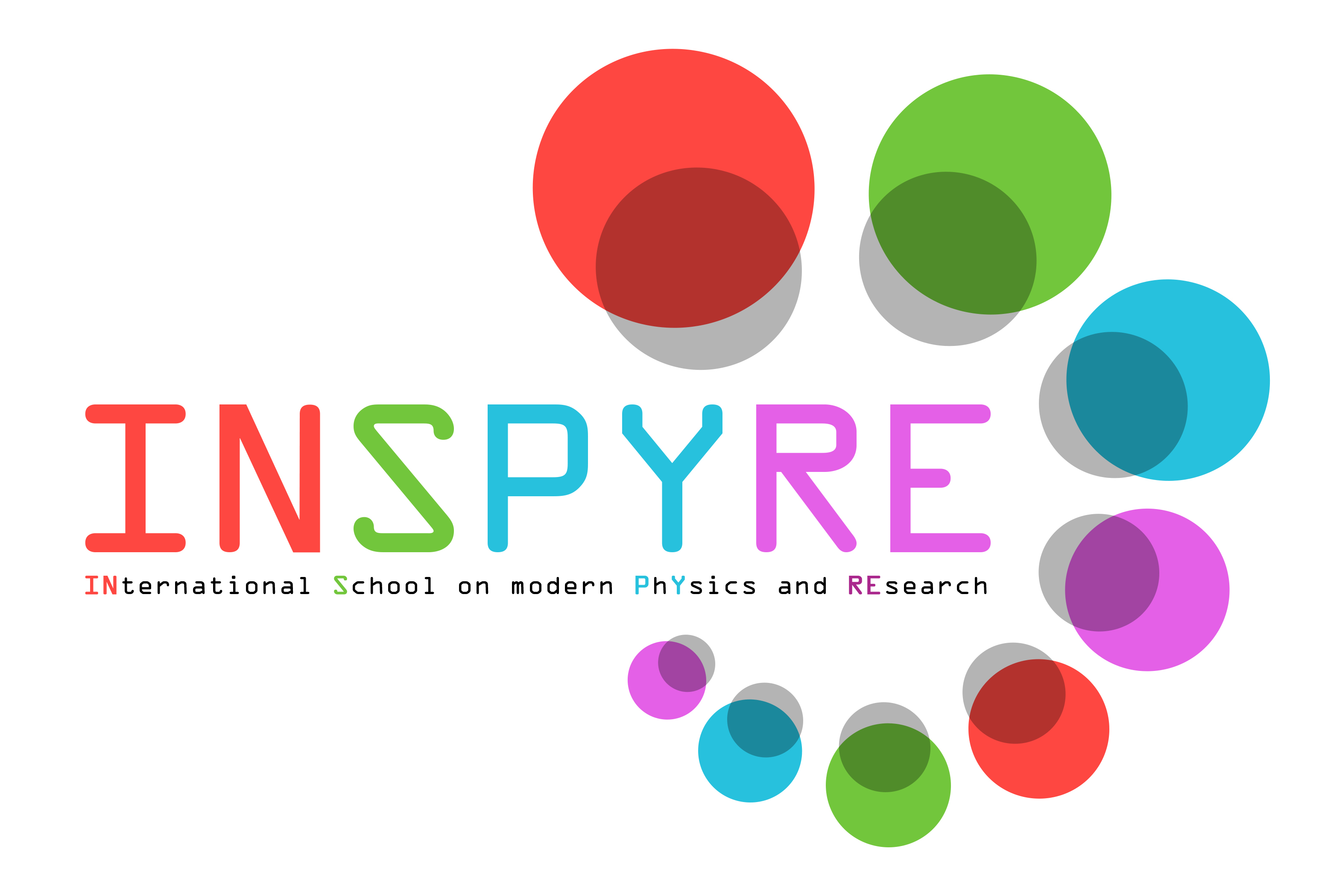 From particles to the stars: an INSPYRING adventure

The school will be dedicated to interactive presentations of the most recent and exciting results in the particle physics and studies of the Universe, both from theoretical and experimental points of view. Quantum physics and gravity, the two pillars of our understanding of Nature and Universe, dark matter and dark energy, together with experimental possible signatures of physics beyond standard model will be addressed by enthusiastic experts in the field – happy to share with you their wisdom. We shall also bring you with us on virtual visits in our Laboratori Nazionali di Frascati of INFN Visitor Center and to our main infrastructures, including the unique DAFNE accelerator where stars meet particle and nuclear physics. Last but not least, we shall address new avenues in technologies, such as quantum technologies and sensors.
You, the Universe tomorrow's explorers, join us in this INSPYRING adventure, from particles to the stars!
This year the Scholl will be organized online, on a virtual platform, from the 4th to the 8 th of April and will contain a series of lectures.
The lectures are scheduled in the afternooms from 3:00 pm  to 5:30 pm (Rome CET).
Presently we are finalizing our program which you will find in this page.
Registration is now open!
In order to participate, high schools should apply by filling this FORM.
Registration of the students' personal data must be completed before the 18th of March 2022.
INSPYRE 2022 is organized with the participation and support of:
PROGRAM
Monday 4 April 

Chairman Pasquale Di Nezza


02:45 pm – 02:50 pm
Welcome (INFN-LNF Director: Fabio Bossi)
02:50 pm – 03:00 pm
INSPYRE 2022: Welcome and introduction (INSPYRE Director: Catalina Curceanu)
03:00 pm – 04:15 pm

How big is a proton: a modern puzzle (R. Pohl, Max Plank Inst.  and J. Bernauer, Stony Brook Univ.)

04:15 pm – 05:30 pm

Big machines, high energies, and tiny particles (Frederik Van Der Veken CERN)

Tuesday 5 April
Chairwoman Susanna Bertelli

03:00 pm – 04:15 pm
Illuminating the dark – searches for dark matter deep underground (Laura Baudis, Physik-Insitut Universitat Zurich)
04:15 pm – 05:30 pm

Strangeness in exotic atoms at the DAFNE Collider.
All in a timble! (Catalina Curceanu, INFN-LNF)

Wednesday 6 April
Chairwoman Catalina Curceanu

03:00 pm – 04:15 pm
Next Generation Accelerators (Lucio Rossi, INFN-Mi, CERN)
04:15 pm – 05:30 pm

Quantum Technologies – (Anna Grassellino, Fermilab)

Thursday 7 April
Chairwoman Susanna Bertelli
03:00 pm – 04:15 pm
Gamma-Ray Bursts: the end is just the beginning (Cristiano Guidorzi, University of Ferrara)
04:15 pm – 05:30 pm

Probing the Universe's history with JWST: from the very first galaxies to stellar cradles and exoplanets in our cosmic backyard (Claudia Mignone, INAF)

Friday 8 April

Chairwoman Susanna Bertelli

03:00 pm – 04:15 pm
Bruno Touschek Visitor Centre Virtual Tour (Susanna Bertelli & Danilo Domenici, INFN-LNF)
INSPYRE 2022 CONTEST
GET INSPYRED!
Inspyre 2022 contest
Share your INSPYRE experience with us!
We would be glad to receive your feedbacks and insights!
You can realize and send us:
short videos (max 3 minutes), presentations (max 10 slides), articles, comics, drawings …related to one or more topics that interested you the more during the school.
You can send your creativity work (individual or team work) to: comedu@lnf.infn.it
Deadline May 8, 2022
The three best works will be awarded with special INSPYRE gadgets!
ORGANIZING COMMITEE
Directors
Catalina Curceanu, Susanna Bertelli
Organizing commitee
Sara Arnone,
Debora Bifaretti,
Elena Patrignanelli,
Sara Reda,
Elisa Santinelli