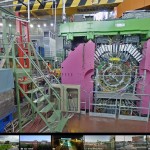 The four National Laoratories of the INFN will be the first italian research centers to appear on Google Maps.
From now on, it will be possible to virtually  visit the National Laboratory of Frascati using Google Maps, simpy selecting the Street View option.
Thanks to this service it is possible to virtually walk inside the great INFN research infrastructures, with a 360° view.
In order to realize the four virtual tours, about 1300 panoramic pictures were taken, in six shooting turns carried out by the Google staff, also thanks to the collaboration of the INFN researchers.
The images were taken with technologies specific to the Street View tool: a Trekker, a 18kg backpack holding 15 cameras, Android compatible, and a Trolley, used for inside shooting and initially designed to capture images inside museums.
The images were then edited with computer graphics softwares to achieve the typical 360° Street View effect.
Laboratori Nazionali di Frascati – LNF Vai su Google Maps
Laboratori Nazionali del Gran Sasso – LNGS Vai su Google Maps

Laboratori Nazionali di Legnaro – LNL Vai su Google Maps

Laboratori Nazionali del Sud – LNS Vai su Google Maps