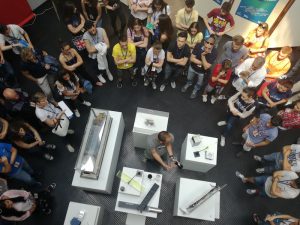 OpenLabs 2017- Playing with Science!
2100 enthusiastic participants to the LNF open day proved that playing with science is possible!
Physics theorems mixed up with juggling, interactive labs and original scientific talks, all this contributed to create a festive atmosphere around the world of science. LNF researchers, technologists and technicians talked about experiments, new challenges of applied technology and, among other things, they volunteered to build up a scientific speed date in order to satisfy, in a pleasant and casual chat, many curiosities of the visitors.
The success of this event is due to the hard work of a 220 people staff, including 70 high school students carrying out a work-related learning programme. These students offered a fundamental contribution to the realization of each activity. Attached visitors strengthened their passion for science and a new public let itself be captivated by this world and its main characters.
Translation by Camilla Paola Maglione, Communications Office INFN-LNF