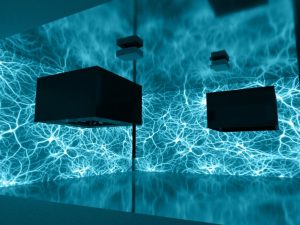 Palazzo Blu, Pisa, 22nd of March – 2nd of July 2017
On 22nd of March it will be launched in Pisa the exhibition "Virtual Man, Physics explores the body", devoted to the exploration of the human body and to those technologies – born thanks to Fundamental Physics – which let us "photograph" the human being through digital images, revolutionizing Medical Science.
The setting-up, realized in collaboration with artists from both interaction design and video art, will offer a unique itinerary which, starting from the XIX century discover of X-rays and radioactivity, will lead us to the latest technologies of advanced imaging (computed tomography, magnetic resonance, 4D echography), with innovative prosthesis and big particle accelerators.
A fascinating journey will bring the visitor through "telescopes" and probes able to capture the hidden details of human organs and the invisible plot of life, including the single neuron connections to brain.
Virtual Man tells a story that carries us to nowadays, with a foot in the present and the other one in the future, where frontier research and biomedicine meet to build up the virtual man.
The exhibition, by National Nuclear Physics Institute (INFN), is promoted by Palazzo Blu Foundation and realized thanks to the support of Assobiomedica.