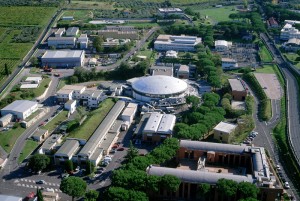 The Frascati National Laboratory (LNF) organizes guided tours of the experimental sites and the Bruno Touschek Visitor Centre to bring students and the public closer to the research activities of the National Institute for Nuclear Physics (INFN).
The itinerary includes a guided tour of the Bruno Touschek Visitor Centre, the permanent exhibition of the LNF on Particle Physics, Accelerators and the research activities of INFN-LNF scientists. It is not possible to guarantee, on the day of the visit, the access to the experimental sites based on the availability of ongoing research activities. Visits are free and take place only by reservation.
Every year the Frascati National Laboratory dedicates a whole day to scientific dissemination, opening to the public in May for the OpenLabs event: guided tours of the particle accelerator Dafne and of the major experiments in progress, conferences, meetings with INFN staff, scientific demonstrations, shows and playful-educational workshops for children.
In September, the LNF also participates in the European Researchers Night project, organizing visits and dissemination activities to learn about the world of research and meetings with INFN-LNF scientists.
For more information, please consult the dedicated websites.
To learn more about LNF: download the brochure.